Prometheus Patent services made its presence felt at the 33rd Annual Intellectual Property Law Conference ("IPL SPRING") from April 18-20, 2018, organized by the American Bar Association, USA. Our US Operations Head Ms. Soujanya Sikha represented Prometheus at this prestigious event.
Leading patent attorneys from Fortune 500 companies, senior officials from WIPO and USPTO actively participated in the deliberations at the Conference. In addition Patent Agents, Financiers, Company representatives, Publication houses in service of IP also participated in various events associated with the Conference.
Prometheus had an opportunity to showcase its venture into the BLOCK CHAIN TECHNOLOGY, a trusted time stamped technology for enhanced safeguarding of IP data.  The event included series of concurrent programmes from April 19th through April 20th which included various sessions (pre-planned). The topics were designed keeping in mind the issues which needed attention and discussions with persons relevant in the field of Patents, Copyrights, Trademarks, and Start-ups etc. An insight into the concurrent programmes which we participated:
An interactive session with the USPTO commissioner:
As Commissioner for Patents, Mr. Drew Hirshfeld manages and leads the patent organization as its chief operating officer. He gave a brief presentation on the working of USPTO.  The budget allocated to the institution, attrition level, regional offices as house for examination were some of the topics discussed. The functioning of examiners was specifically stressed upon. Responding to arguments, persuasive writing, interview with the examiners through video conferencing was also discussed. The commissioner gave a brief insight into the struggle between computer implemented invention and bio-invention. USPTO ombudsman program was discussed briefly.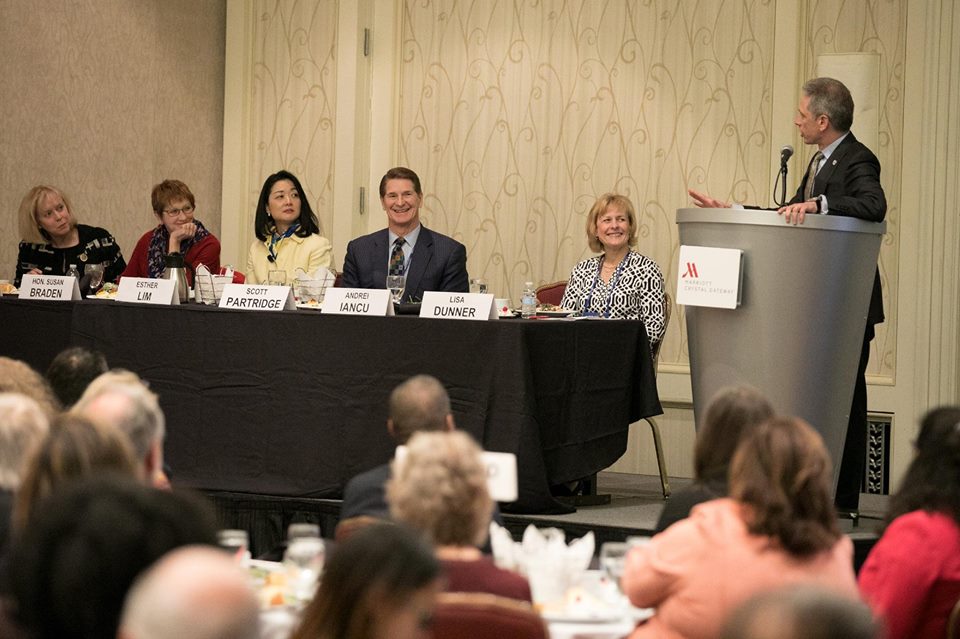 Coming together, worlds apart; Global Patent Law survey, 2018:
The session had panelists inclusive of a European patent Attorney, Director of Patent Law Division (WIPO), IP attorney from Canada, and a patent attorney from China patent and trademark office. This session gave an insight into various IP systems across the world. The impact of Brexit on United Kingdom, and London patent office in particular was discussed.
Director Patent law from WIPO gave an insight into the contribution of multilateral treaties like Budapest treaty (1977), Paris Convention (1983), Patent Law treaty (2000) administered by WIPO. A graphical representation of world-wide patent application and their growth rate's year wise statistics was discussed. An increasing trend of PCT national phase applications was discussed. The Patent law treaty (PLT) and its efforts to streamline and harmonize with respect to regional and national patent application and its contributions for applicants and representatives of the treaty were presented. The strengths, weakness, opportunities, and threats were talked about. The director also discussed about standing committee on law of patents (SCP) which has three aspects: PLT formalities and procedural aspect, substantive patent issues, and current agenda.
With respect to the patent office in china a prioritized examination is believed to have come into effect from Aug, 01, 2017. With reference to the 35 U.S.C. 101 referring to Inventions patentable of the US patents act, in China this aspect is much wider. An effort to further improvise post filing data especially to cater to pharmaceutical industry is on cards. The Chinese patent office has further taken steps towards administrative enforcement. There has been a significant change proposed in the invalidation process. There has been a significant reduction on collection of evidence for damages. An example of Huawei vs Samsung and Iwncomm vs Sony was cited.
Canadian utility requirements prior to Astrazenca vs Apotex case were discussed. Canadian patent office is taking evaluation based on utility very seriously. The concept of "promise of the patent" i.e. "If a Canadian patent sets put an explicit promise of utility, then utility will be measured against that promise" was discussed in detail. In fact overpromising is considered as cheating. The concept of extension of patent terms, certificate of supplementary protection (CSP) implemented to meet Canada's obligations under the comprehensive Economic and Trade agreement (CETA) between Canada and EU.
Growing your Start-up IP practice:
The panellists included entrepreneurs with ventures being from a decade old to about three years old. Each of the panellists shared their experiences with respect to marketing, finances, attrition rates in general, where and how to economise a start-up, and know your customer concept to name a few. The panellists had specialisation in software, chemical engineering, Mechanical Engineering, Medical devices etc. The discussion also focussed on common mistakes committed by firms, marketing and branding, fixing of administrative and employee issues etc.
Standard essential patents and Internet of things
Interplay of technical standards and patents was discussed. The importance of standards in already issued patents and how the increase in the number of patent grants has led to increase in standards was discussed. Licensing rules and their impact, anti-trust violation, patent evaluation and royalty were briefly discussed. A representative from the Federal Trade Commission (FTC) of the US had given an insight on FTC's policy issue and its enforcement side.
A discussion on Fair use and not fair use:
This plenary had focussed on various interpretations of the concept of fair use through number of case studies with reference to many court cases. The infamous oracle vs google was discussed in detail. It was interpreted that many courts say that not always the direct economic benefit should be taken into consideration. Few other cases which were discussed were: Cambridge vs Georgia state; Estate of Smith vs cash money records. The panel had a healthy discussion on each of the cases.
Current state of dilution doctrine:
Cases related to top brands were discussed with reference to trademark dilution by tarnishment. Concerns regarding the impact of social media on encouraging free riding on someone else's marks were expressed. With respect to Brunetti case the concept of disparagement of a private brand was discussed. Hyundai vs Louis Vuitton and IOWA state university cases were discussed. The protection of brands beyond the jurisdiction of the US was also a part of the discussion.
A luncheon celebrating women in IP was held on 20th April where Andrei Iancu, new Under Secretary of Commerce for Intellectual Property and Director of the USPTO addressed current issues and future directions of the Office.